By LParkin |
03
June 2023 |
0
Comments
LParkin's 10 Best-Selling Book Sleeve Products of 2023

Discover the Perfect Book Sleeves for Style and Protection:
LParkin's 10 Best-Selling Book Sleeve Products of 2023

Overview
LParkin, the premier book pouch seller, is delighted to present its collection of best-selling book sleeves for 2023. As avid readers ourselves, we understand the importance of protecting our beloved books while adding a touch of personal style. In this article, we showcase LParkin's top ten book sleeve products that combine functionality, fashion, and durability, ensuring your literary treasures are safe and chic.If you're interested in the product, please click on the image for more information,or click me to enter my lovely shop.
1. LParkin - Chrysanthemum Embroidered Book Sleeve with Zipper
This embroidered book cover features a delightful pattern of yellow daisies, showcasing a sense of nature, elegance, and warmth. Each daisy is meticulously embroidered, capturing the intricate details and vibrant colors.Whether you're at school, the library, or a coffee shop, this book cover serves as a fashionable accessory, expressing your love for nature and art. It not only offers convenient book-carrying functionality but also provides a visual delight and a unique display of personality. Let this embroidered book cover be your fashion statement, showcasing your pursuit of beauty and your passion for nature to the world.
Click on me or the image to learn more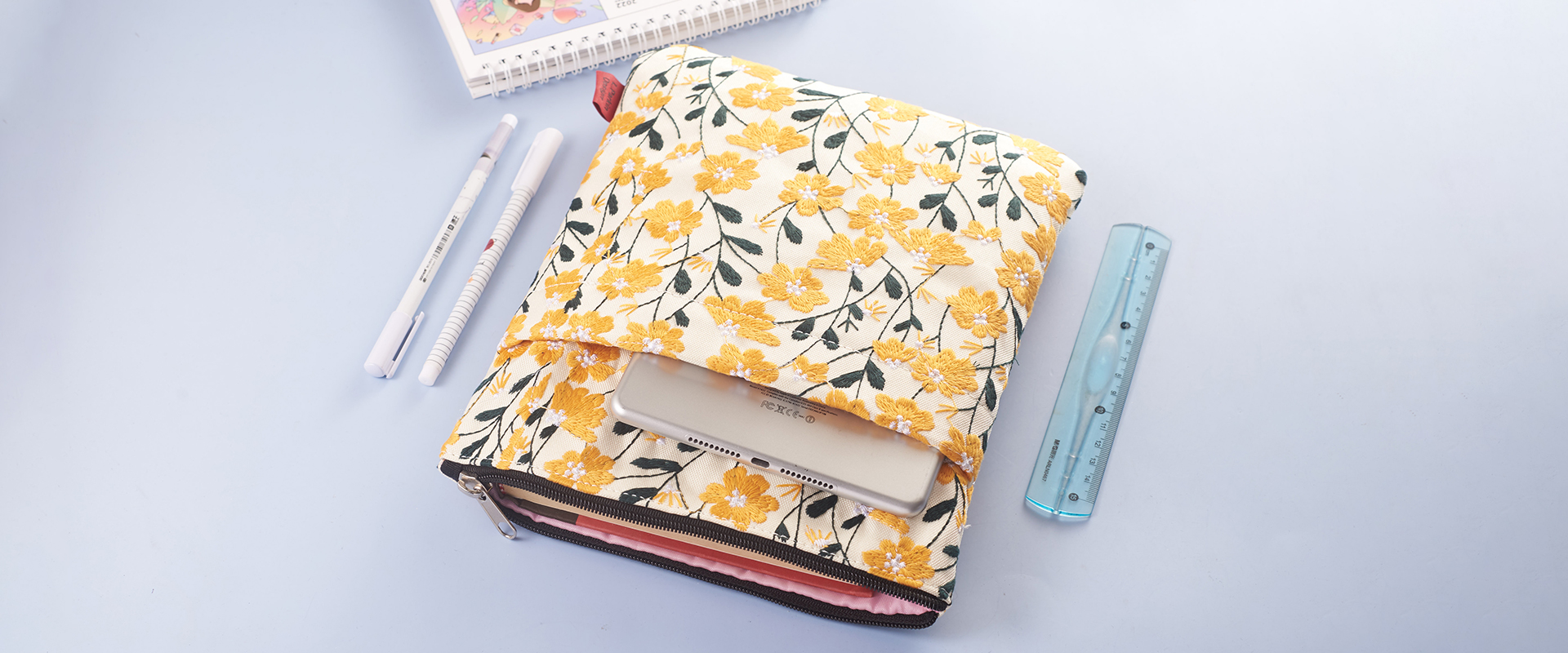 2. LParkin - Starry Night Sky-themed Book Sleeve
with Zipper
The design concept is inspired by the mysterious and romantic ambiance of the night. The black background creates a sense of tranquility and mystery, while the small clock, green leaves, birdcage, and moon patterns add delicate and poetic elements. We aim to provide you with a unique experience through this book sleeve, allowing you to feel the charm of the night while carrying your books. We hope that this book sleeve will bring a touch of enchantment to your reading moments, allowing you to immerse yourself in the captivating atmosphere of the night.
Click on me or the image to learn more
3. LParkin - Cute Snail Black Floral Book book Cover with Zipper- Stylish and Functional
Surrounded by a black background, adorned with a cute snail and various shapes of green leaves and flowers. The combination of the black backdrop and playful elements creates a visually appealing and delightful design. The adorable snail symbolizes a leisurely attitude towards reading, while the vibrant green leaves and flowers represent growth, vitality, and the beauty of nature.
Our goal is to create a book sleeve that not only protects your books but also adds fun and charm. The cute snail and natural elements bring a sense of joy and tranquility, inviting you to embark on a leisurely reading journey.

Click on me or the image to learn more

4. LParkin - Cartoon Style Book Cover with Zipper- Just a Girl Who Loves Books
A girl leaning against a tree with colorful leaves, engrossed in reading, showcasing her love for books and her pursuit of imagination. The inscription at the bottom of the book sleeve, "JUST A GIRL WHO LOVES BOOKS," firmly declares the girl's passion for reading and her identity. Whether at school, in the library, or while traveling, this book sleeve will be your companion, reflecting your love for books and knowledge.
Click on me or the image to learn more
5. LParkin - Constellation Sky Book Protector with Zipper - Protect and Carry Your Books in Style
This book cover is designed to cater to lovers of the universe, constellations, and fantasy. Whether you are an astronomy enthusiast, a romantic soul, or someone who craves freedom and pursues dreams, you will find resonance in this design. Let this book cover be your companion of inspiration, accompanying you on your reading journey, be it on your desk, at school, or strolling under the starry sky. It will illuminate your quest for the mysteries of the universe and knowledge. Let's embark on this celestial journey together and discover more beauty and wisdom.
Click on me or the image to learn more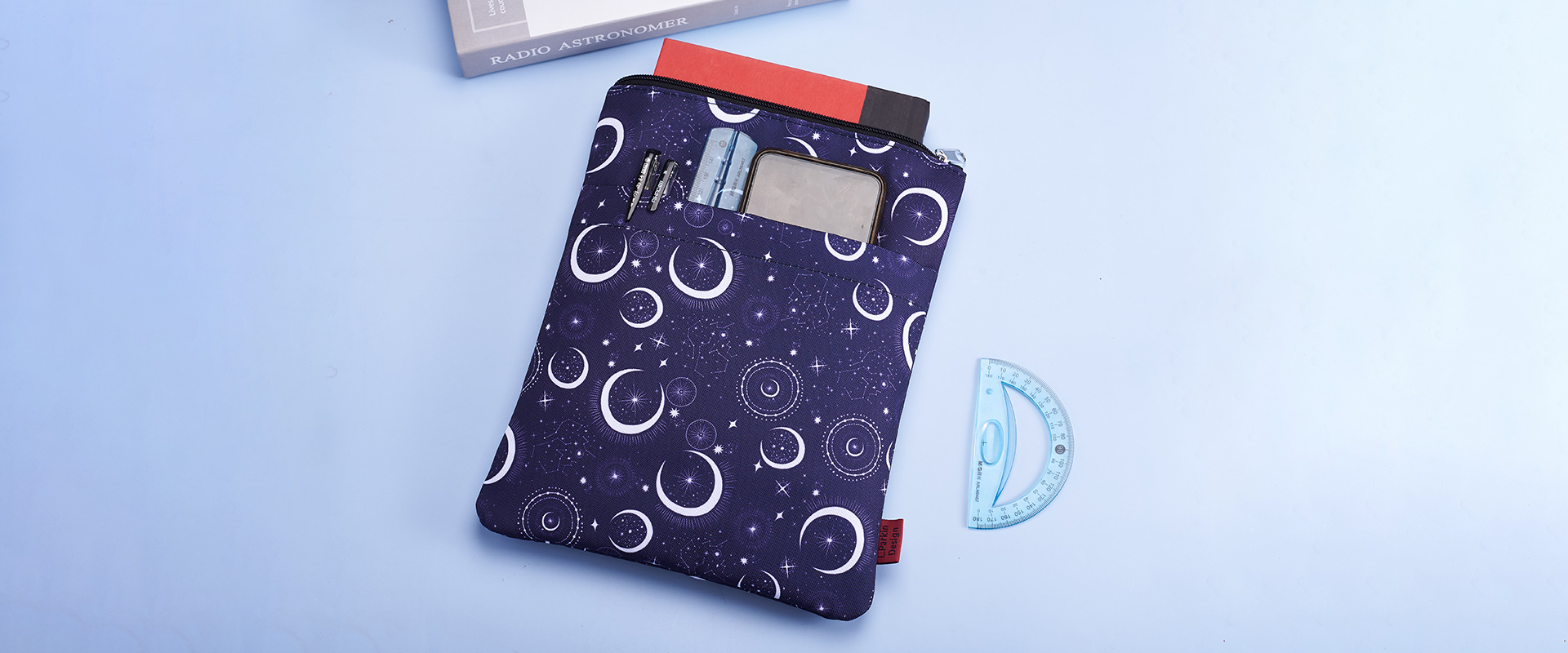 6. LParkin - Cat & Books Book Sleeve Protector with Zipper - Protect Your Books with Feline Charm
This book protector is designed for those who find themselves easily captivated by the charm of cats and the enchantment of books. The playful combination of various cat poses and a collection of books on a pink backdrop reflects the delightful distractions that cats and books can bring to our lives. The statement "Easily DISTRACTED BY CATS & BOOKS" proudly declares the wearer's love for these two irresistible forces.
Click on me or the image to learn more
7. LParkin - "So Many Books So Little Time" "Death by TBR" Book Sleeve with Zipper
This book protector is designed to cater to those who have a love for reading and a unique sense of style. The pink background creates a warm and romantic ambiance, while the central image of a lady skull represents individuality and a free-spirited nature. She is engrossed in her reading, and the colorful flowers and leaves adorning the design add a touch of vibrancy and vitality.
The phrases "SO MANY BOOKS, So little time" and "DEATH BY TBR" written above and below the artwork express an endless love for reading and the anticipation of a towering TBR (To-Be-Read) pile. This book protector serves as a reminder to seize the precious moments for reading and bravely face the challenges.

Click on me or the image to learn more



8. LParkin - Embrace Your Inner "Book Nerd" with Our Pink Book Sleeve with Zipper
"The 'book nerd' design is a bold declaration of your identity and passion. Whether you love novels, history, science fiction, or any other genre, this book sleeve proudly showcases your bookish persona, setting you apart from the crowd. It's the ultimate choice for book enthusiasts, whether you're at the library, a café, or enjoying the comfort of your own home. Let this book sleeve be your stylish companion on your bookish adventures."

Click on me or the image to learn more



9. LParkin - "So Many Books So Little Time" Book Protective Sleeve - Embrace Your Bookish Adventures in Style
Our design revolves around the love for books and the joy of reading. The pink background symbolizes warmth, playfulness, and creativity. At the center, a little girl is depicted sitting amidst a stack of books, fully immersed in her reading adventure. The vibrant colors and intricate details of the books represent the vastness of knowledge and the limitless possibilities that await within their pages.
The phrase "So Many Books, So Little Time" written on the book sleeve captures the essence of every book lover's dilemma—the desire to devour countless books despite the constraints of time. It serves as a gentle reminder to make the most of every reading opportunity and to cherish the treasures found in literature.

Click on me or the image to learn more

10. LParkin - Sharing Reading Moments with Adorable Pandas - Book Protective Sleeve
This book sleeve is designed for readers who have a passion for books and an affinity for natural elements. The adorable pandas symbolize cuteness and innocence, while the bamboo represents resilience and growth. The concept behind the book sleeve is to merge our reading experience with nature, allowing us to embrace the tranquility and inspiration it offers.
The book sleeve conveys the idea that as we immerse ourselves in reading, we become one with nature, experiencing the calmness and enlightenment it provides. Whether you're at the library, a café, or an outdoor park, this book sleeve will be your proud fashion companion, showcasing your love for reading and nature.

Click on me or the image to learn more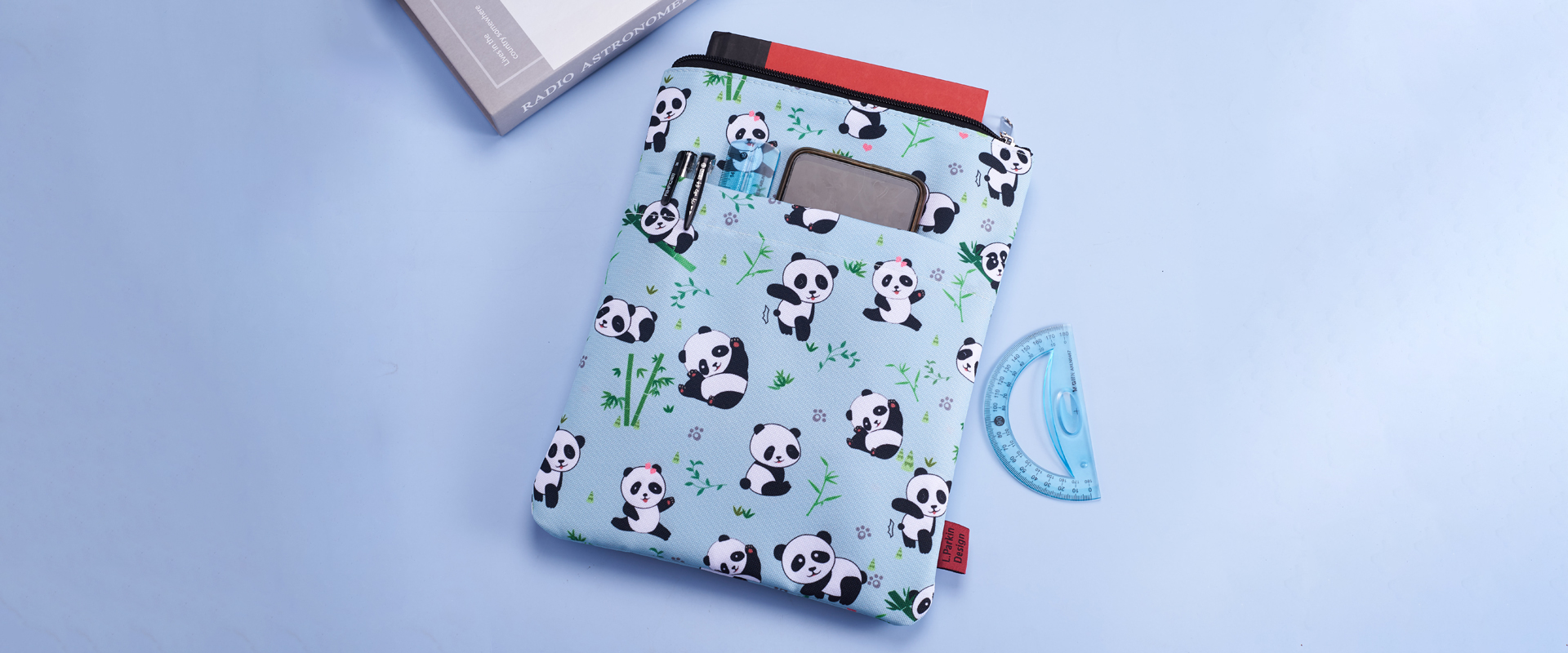 The above products all have the same specifications, as follows: Size is 11*8.5 inches, featuring waterproof and slightly shockproof functions, double-layered fabric for enhanced durability and best protection for books, high-quality zipper, and additional pocket design.
Thank you for taking the time to read our introduction. We are currently running a promotional campaign with a 10% discount in our store. If you would like to learn more, please click on the image or click on me to visit our lovely store!

About Us
LParkin is a brand that specializes in book sleeve, pen cases, and jewelry products. We are dedicated to providing our customers with fashionable and high-quality items that cater to their personalized accessory needs.
Our brand emphasizes the fusion of design and craftsmanship to create unique and elegant products. Each LParkin creation undergoes meticulous design and strict quality control to ensure durability and aesthetics.
Customer satisfaction is at the core of our brand's values. We deeply understand the expectations that customers have for our products, which is why we not only prioritize aesthetics and quality but also focus on providing a comfortable user experience and meeting their needs. Through continuous communication and feedback from our customers, we constantly improve and innovate to deliver the best shopping experience possible.
Leave a Reply
Your email address will not be published.Required fields are marked. *