By Lparkin |
07
June 2021 |
0
Comments
12 Best Father's Day Gifts to Give in 2021: The Cutest and Trending Keychain Gifts to Dad
1.
Love from The Bump Happy First Fathers Day Keychain Gift for New Dad Daddy Gifts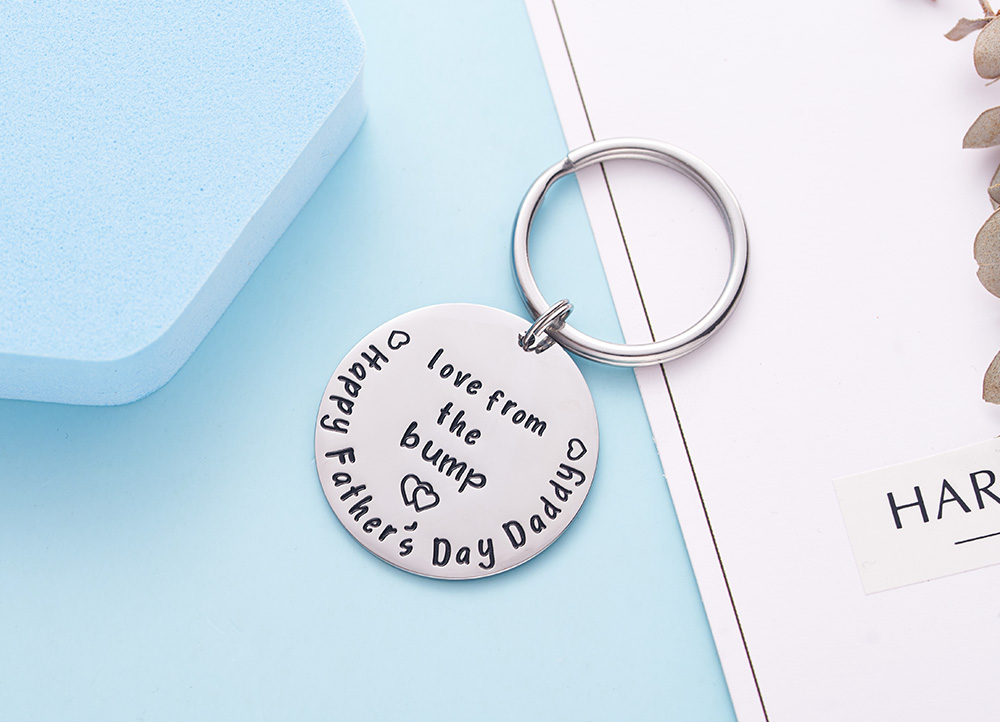 This keychain is amazing new dad gifts just for fathers on Father's Day! This key chain stamped with the funny words "Love From The Bump Happy Father's Day Daddy",
featuring with cute heart pattern. As dad to be gifts for dads who is new daddy! This will make the perfect first fathers day gifts to celebrate how special Day really is!
2.
Ride Safe Daddy I Love You Motorcycle Keychain Drive Safe Keychains Presents For Dad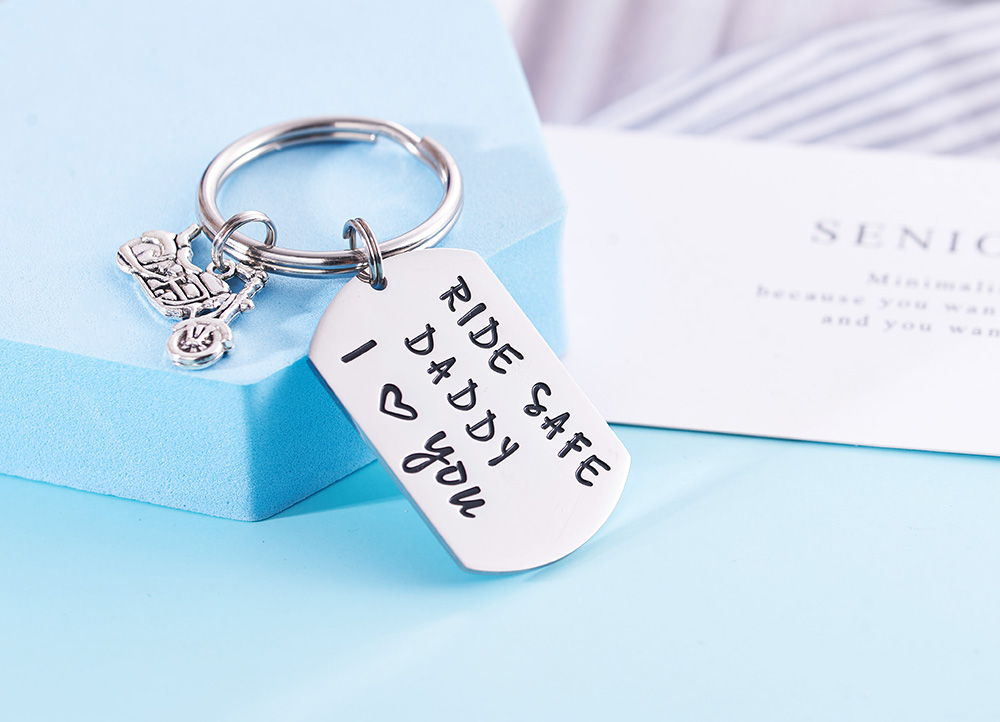 This ride safe keychain is personalized fathers day gifts for your daddy who is big motorcycles fan. The keychain designed with mini motorcycle pendant, imprinted with "RIDE SAFE, DADDY,I LOVE YOU", heartwarming message express concern and blessing tenderly. It is a perfect reminder accessory to remind your loved dad to ride safely. Also is the best father's day gift for motorcycles fan daddy from kids.
3.
I'll Always Be Your Little Girl You Will Always Be My Hero Keychains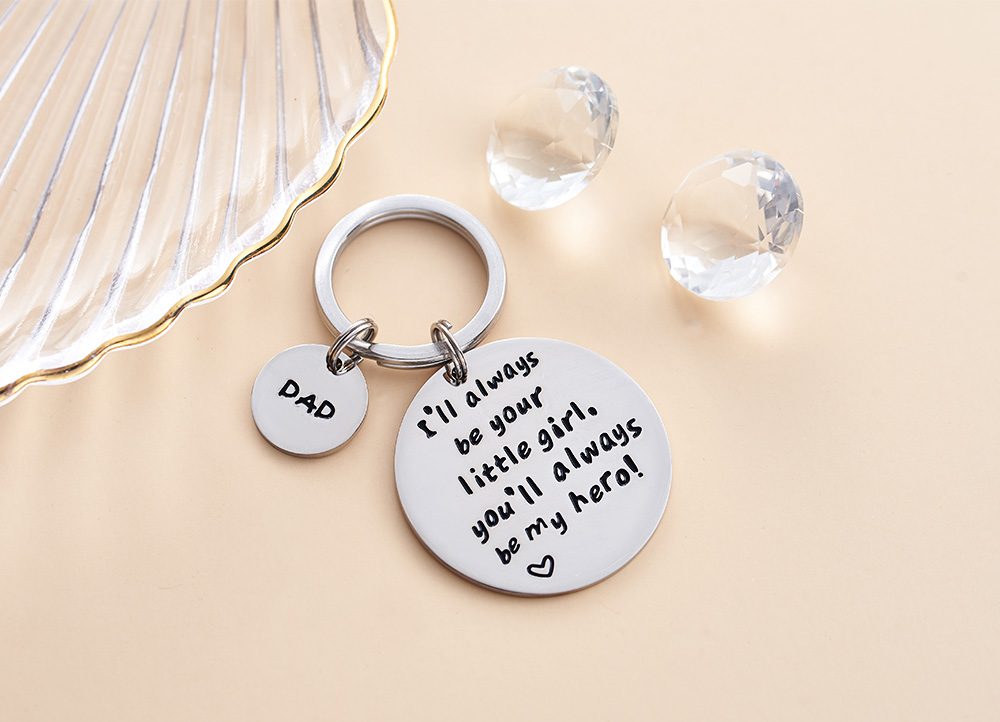 This keychain is the unique gifts for dad, quote with "I'll always be your little girl.You'll always be my hero!", this will melt any dad's heart. Any dad will always love and protect his little girl. A great gift on any special moments for dad gifts from daughter. Such a cute and unique keychain with symbolic meaning attached makes a perfect gift idea for dad on Father's Day.
4.
Dad I Love You 3000 Keychains Avengers Endgame Fans Gifts Iron Man Gift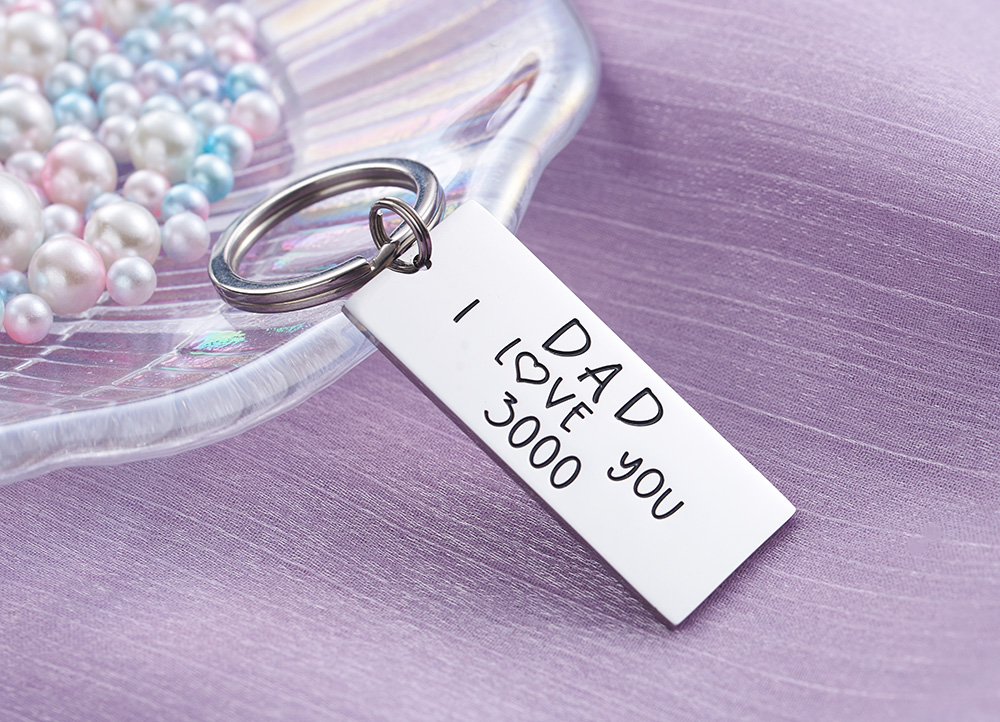 The exquisite and cute keychain is engraved with Avengers Endgame touching movie lines "I Love You 3000"
. The dialogue between the father and daughter is deeply rooted in the hearts of the people. J
ust like your deep love for your dad, it's the best father's day gifts for dads who is the super hero fans. It's a good way to express your love to your dad with this cool gift. I believe he will be very happy when you give it to him as funny fathers day gifts.
5.
Father Daughter Keychain Set Daddy Gifts From Daughter Matching Keychains Gift For Dad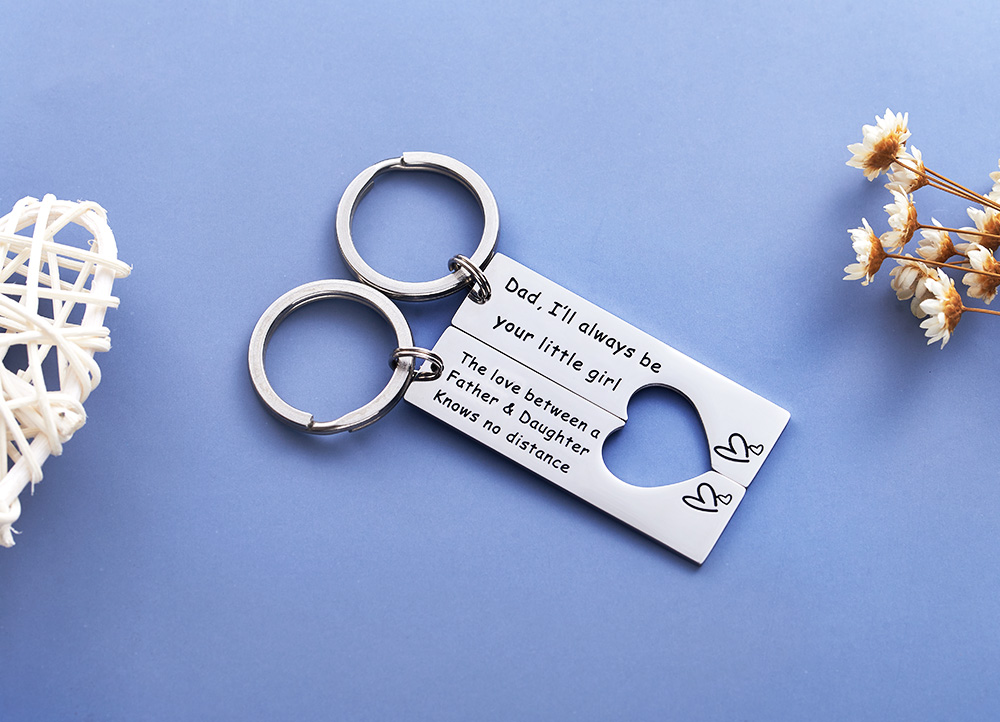 This daddy daughter gifts keychain set with beautiful message engraved "Dad, I'll always be your little girl" "The love between a Father&Daughter Knows no distance" on front,engrave with the cute heart pattern. This is cool fathers day gifts from daughter to express her love to dad.This matching keychain set can offer for father and daughter use together. Show the most important man in your life just how much he means to you with this keychain for dad. Surprise your dad on father's day with these exquisite keychain sets.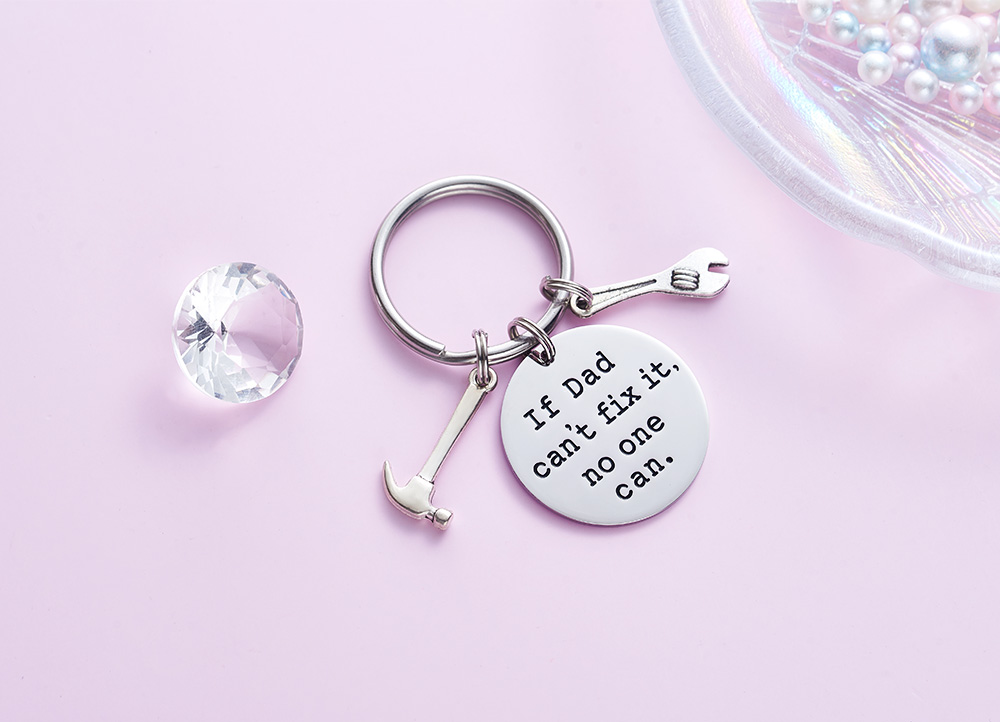 This dad keychain engraved funny quote "If Dad can't fix it, no one can.", featuring with mini hammer charm, mini wrench tools charm. Dad can fix anything, it shows dad is the best super hero in the world, he can do everything for us and we love him forever.It's cool fathers day gifts show the love and proud to your hero father.
7.
Father Daughter Keychain Gifts The Love Between Father and Daughter Knows No Distance Key Chain
The keychain is is engraved with "The Love Between Father and Daughter Knows No Distance". As we all know, behind every great daughter is a truly amazing dad. Long distance can't stop love. This little keychain is a wonderful gift for your dear daddy as relationships gifts. Just tell father that you really love him, also perfect gift from a daughter to give a dad on Father's day.
8.
Bonus Dads Stepfather Keychain You Didn't Give Me The Gift Of Life Keychains Step Dad Gifts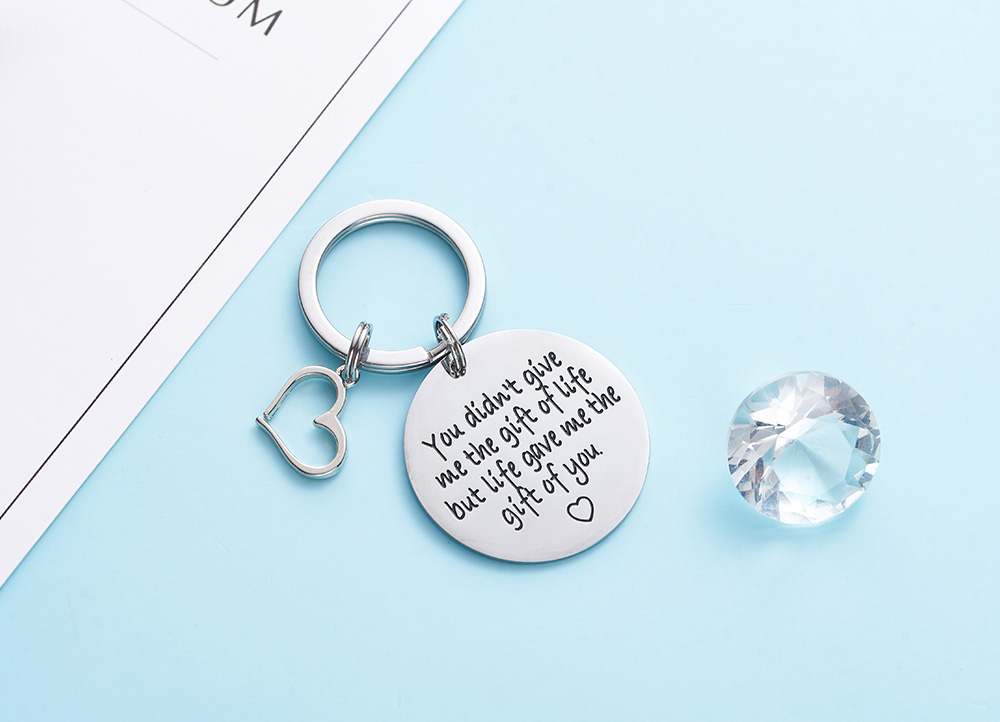 Do you have the best stepfather ever? Make him feel extra special with this very thoughtful keychain engraved quote "You didn't give me the gift of life but life gave me the gift of you",featuring with mini heart charm pendent. A unique and beautiful keychain as bonus dad gifts on father's day sure to be loved by the one who receives it, tell your stepdad how much you love him.
Father's Day Gift For Dad From Daughter, it show dad how important he is in our hearts! Engraved with "The Love Between Father & Daughter Is Forever" - This charm pendant keychain would be the perfect symbol of your affections. Great to share as a thoughtful gifts for dad or to use together as a matching keychain set with your dad!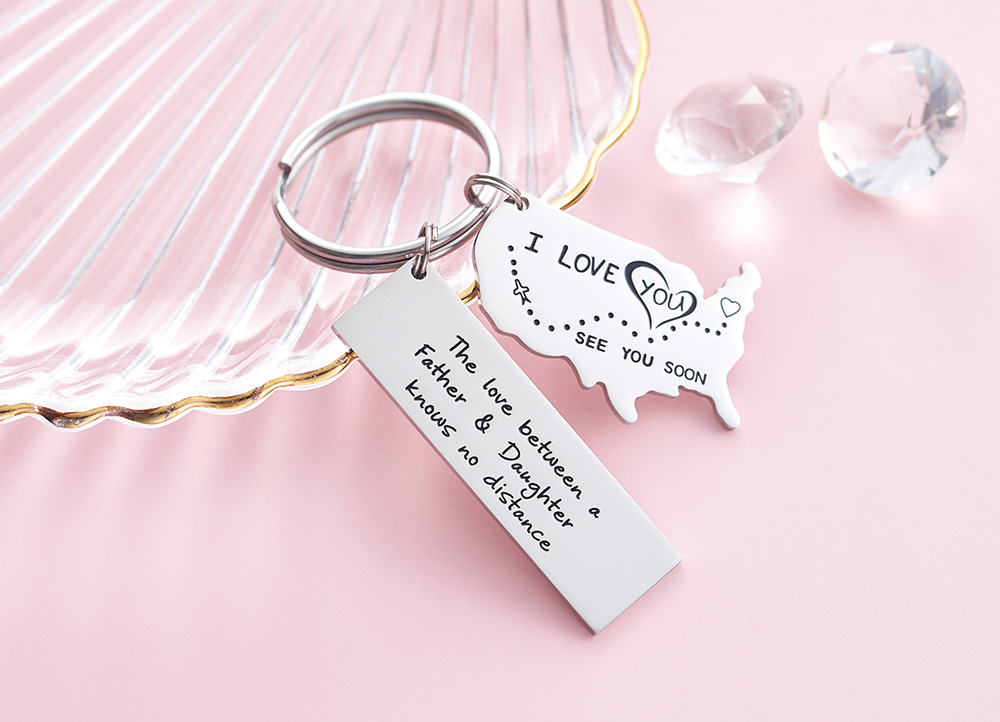 This keychain engraved meaningful quote "The Love Between a Father & Daughter Knows No Distance"/ "The Love Between a Father & Son Knows No Distance", featuring with mini map charm pendent and the lovely message "I LOVE YOU SEE YOU SOON". It's an ideal gift to express your appreciation and love to your dear father, tell him the love will never change though in long distance.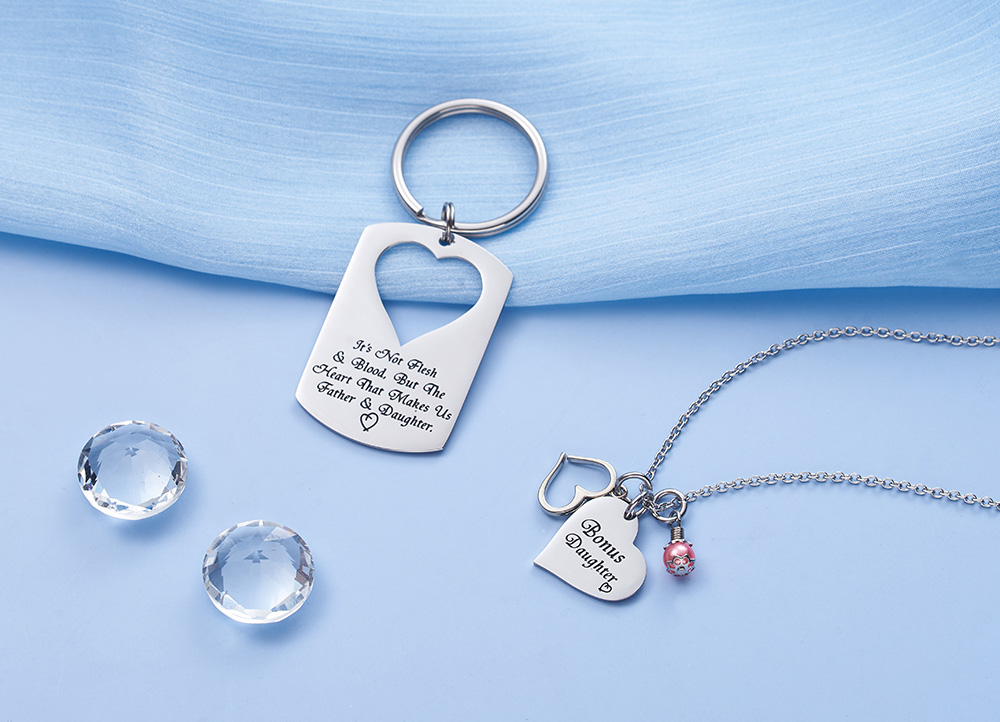 Cute daddy daughter gifts keychains necklace set with beautiful message engraved on front. Give him this keychain for your father, express deep love for him in your heart. It's a 2-in-1! Dad gets a keychain and his daughter gets a necklace! It is such a special thing for a father and daughter to own and wear together.
12.
This Girl Stole My Heart She Calls Me Daddy Keychain Necklace Set Birthstone Daddy Daughter Gifts for Father's Day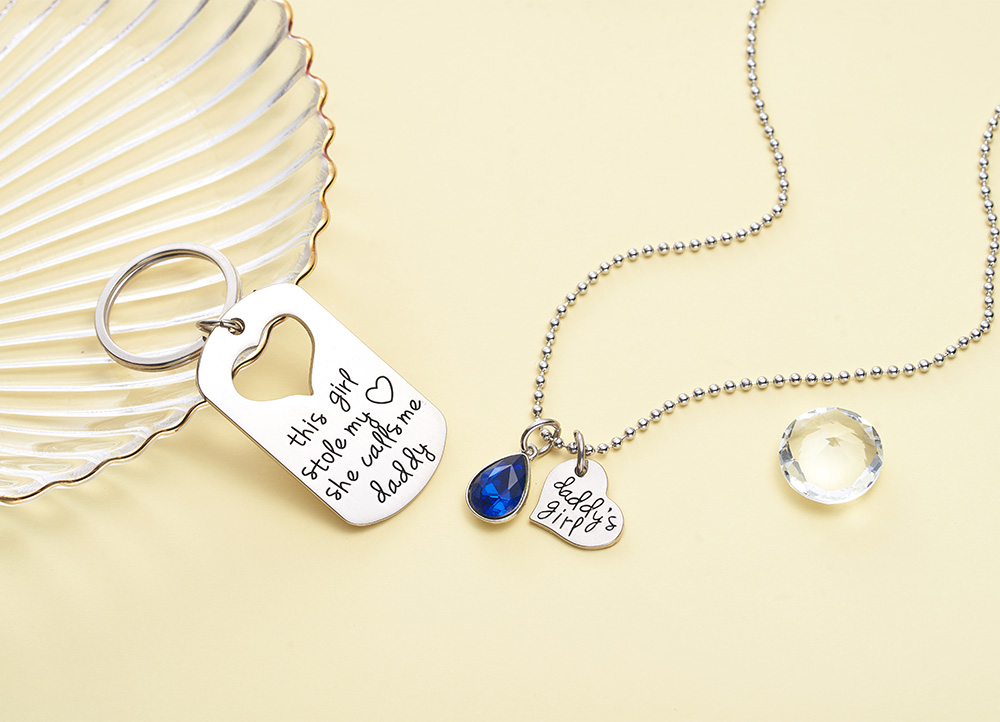 Daddy's girl birthstone necklace set
,
only give sweet girl and dear daddy. Keychain is the best gift for father. For the daughter's birthstone necklace, you can choose the birthstone corresponding to her, make the beautiful necklace look more matching and interesting. Showing dad your love and appreciate to him with this father's day keychain set.
Leave a Reply
Your email address will not be published.Required fields are marked. *